Acinetobacter baumannii genetic diversity, susceptibility to antibiotics and lytic phages
Institute of Antimicrobial Chemotherapy (IAC), Smolensk State Medical University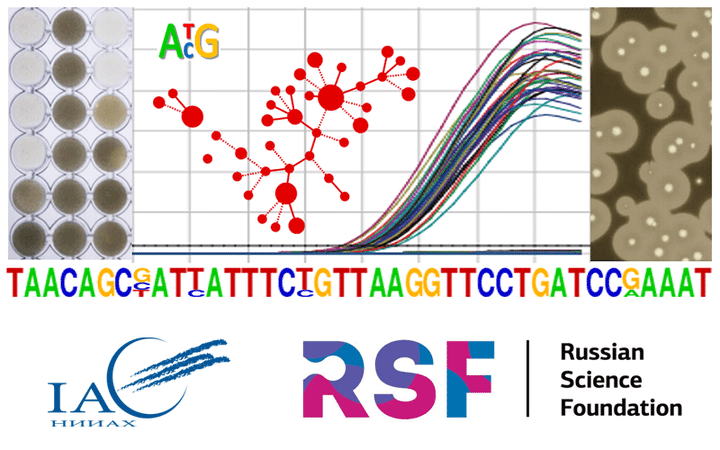 Abstract
Acinetobacter baumannii is one of the most common and troublesome nosocomial pathogens. This project presents the following data on nosocomial A. baumannii isolates collected from various regions of Russia:
isolate source data (geographical, clinical data, and basic patient demographics);
molecular-genetic characteristics of isolates (clonal group, SNP type, sequence type, KL type, presence of acquired carbapenemase genes);
susceptibility to various antibiotics;
susceptibility to certain lytic phages.
Bacterial isolates
The study includes a total of 3,135 consecutive non-duplicate (one per patient/case of infection) clinical isolates collected between 14 January 2013 and 31 December 2019 as part of the national surveillance studies from 71 hospitals in 36 cities of Russia: : Arkhangelsk, Barnaul, Belgorod, Blagoveshchensk, Chelyabinsk, Irkutsk, Izhevsk, Kazan, Krasnodar, Kurgan, Maykop, Moscow, Murmansk, Naberezhnye Chelny, Nizhny Novgorod, Novosibirsk, Noyabrsk, Omsk, Penza, Perm, Petrozavodsk, Rostov-on-Don, Seversk, Smolensk, St. Petersburg, Tolyatti, Tomsk, Tula, Tver, Tyumen, Ulan-Ude, Vladivostok, Voronezh, Yakutsk, Yekaterinburg, and Yuzhno-Sakhalinsk.
Antibiotic susceptibility testing (AST)
Minimum inhibitory concentrations (MICs) of antibiotics were determined by reference broth microdilution method according to ISO 20776-1:2006. The susceptibility categories were interpreted according to European Committee on Antimicrobial Susceptibility Testing (EUCAST) MIC Clinical Breakpoints v.10.0, 2020 (http://www.eucast.org/clinical_breakpoints/)
Phage susceptibility testing (PST)
Susceptibilities of isolates to selected lytic phages were determined by a modified double-agar-layer method and by spot testing.
Molecular-genetic subtyping
All isolates were typed by a single nucleotide polymorphism (SNP)-typing assay based on high-throughput real-time PCR detection of 21informative SNPs in 10 chromosomal loci: gltA, recA, cpn60, gyrB, gdhB, rpoD, fusA, pyrG, rplB, and rpoB (http://snpt.antibiotic.ru:9002/).
Selected isolates were typed by both the Oxford and Pasteur multilocus sequence typing (MLST) schemes using Sanger or whole genome sequencing (https://pubmlst.org/abaumannii/).
Identification of capsular polysaccharide biosynthesis gene clusters (K-loci, KL)
KL types were identified for selected isolates from WGS data using the standard database and nomenclature (https://github.com/katholt/Kaptive).
Detection of acquired carbapenemase genes
The genes of the most prevalent in Acinetobacter spp. acquired carbapenemases of molecular class D (OXA-23-, OXA-24/40- and OXA-58-like), class А (GES-2- or GES-5-like), and class B (VIM, IMP and NDM) were determined by means of real-time PCR.
Study group
Roman S. Kozlov, Anastasia V. Popova, Mikhail M. Shneider, Eugene A. Sheck, Mikhail V. Edelstein, Alexey Yu. Kuzmenkov, Andrey V. Romanov, Elvira R. Shaidullina.
Funding
This work was conducted with the financial support of the Russian Science Foundation (grant no. 18-15-00403).
---
Contact
Evgenii Shek
Research fellow
Institute of Antimicrobial Chemotherapy (IAC),
Smolensk State Medical University (SSMU)